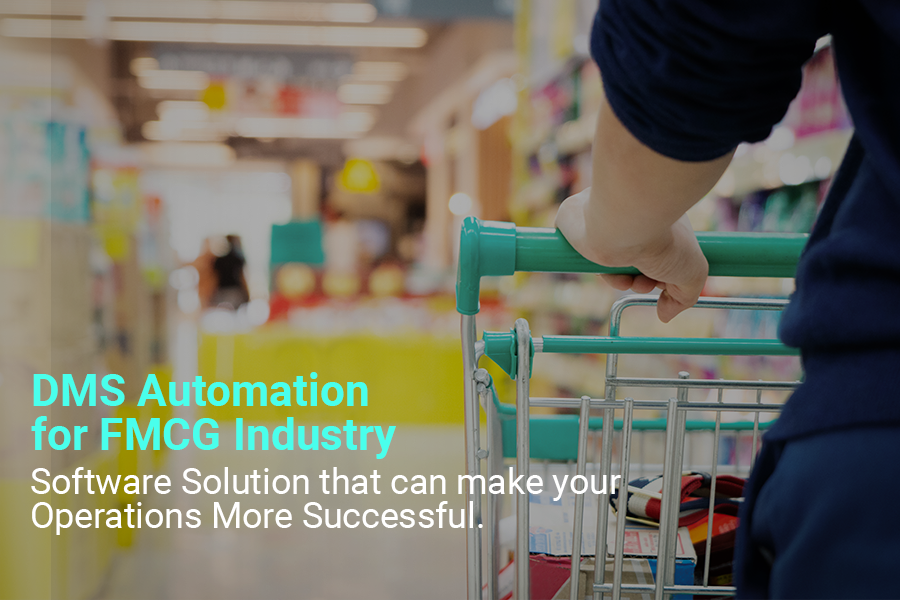 Revenue for the FMCG industry in India is touching sky-high. Fast Moving Consumer Goods (FMCG) or Consumer Packaged Goods (CPG) are products that are sold fast and generally to every stratum of the public on a daily basis. In recent times, the FMCG sector has also seen a rapid shift in the way companies operate in this space.
Companies are looking up to newer technologies and tools that help their selling trends, and are consumer-friendly. Companies are not limiting innovation to their customer interface, but also revamping the way they coordinate with channel partners. With the wide availability of technology-rich solutions, organizations want to automate processes instead of following the same traditional approaches.
When it comes to facing challenges, the FMCG industry is no exception. Both large and small businesses find it almost impossible to manage their inventory; in the former case, the scale and diversity of orders are so huge that manual book-keeping is a challenge. Whereas, small distribution businesses have limited people to oversee operations and find it hard to manage inventory when they dispatch products daily.
The Distribution Management System completely manages the supply chain and logistics which can upheave the business. DMS is a great platform where you can discard paperwork and rely on modern software solution that gives almost zero error possible, quick turnaround time and greater visibility.
Leverages you can attain with the right DMS solution.
Holistic Customer Data Insights – With holistic reports and dashboards feature that gathers data from 360 degree channels, you can store all information concerning partners, stocks, clients, supplies, and suppliers in a single repository. This will lead to having detailed knowledge of realistic data, detailed insights, correcting business loopholes, and making better business decisions.
Get closer to your consumer – Most DMS comes with a customer relationship management feature. This means that you can now get one step closer to your customer's/retail distributors. With the detailed customer and distributor-oriented feedback, FMCG companies can now get to know about their customer's feedback and can work on them to manage their services better. The deep insights collected from the feedback data can be implemented in the work to manage the order and build a healthier customer-seller relationship.
High increase in sales – Most of the times, resellers take the initiative to sell what manufacturers make. Retailers can do a lot more than manufacturers in that regard. An online distribution channel empowers the managers to take complete control over the distribution network. They can manage and monitor the channel at one online destination, thereby making the entire process smooth. Complete care for the network includes generating invoices, managing orders, facilitating invoices, managing payment records, and looking after the delivery management system. All of the above-mentioned scopes are important to encourage distributors to place optimum orders and maintain healthy stock levels.
What to expect from the DMS solution?
Apart from the fact that a DMS solution streamlines your business inventories and database, the Distributor management system also looks after increasing productivity and business reliability.
Complete management of inventory – Update inventory information in real-time and assure just the right amount of stock at distributors' ends. Now companies can plan the inventory in advance with the inventory management system that is already present in the Distributor Management System.
Distributors claim settlement – Empower distributors to submit claims on price change, offers, schemes, discounts, and so on. Get a know-how of current market pricing trends and set a competitive pricing strategy to maintain customers' regular interests in your service.
Managing orders and billing system – Avail mobile-first solution and get the benefit to place orders on the go, this feature will help you to boost the sales and have a better hand on revenue. Generate bills to retailers and manage invoices seamlessly.
Planning great discounts and schemes – It's imperative for businesses to run certain discounts and offer schemes time-to-time, for various volume purchases. Inform the distributors about such discounts and get better selling opportunities.
Personalized reports – Introducing data-driven reports help organizations make viable decisions that are helpful for internal decision making for any FMCG organization. Gain greater visibility through this report and spot the movements and hindrances at ease. Let's agree that reports are something that FMCG companies do need to operate seamlessly.
One can think of online DMS as a solution window to digital interference. To gain multiple benefits of this solution you have to access the power of technology and improvise the selling approach. An online distributor management system will plug in the loopholes in your management process with mobile-first capabilities.
How to get your perfect DMS solution?
Look for these three features before you trust any solution that manages costs; streamlines deliveries, orders, and inventory on the go. When no two problems are the same let's find a solution that suits your requirements with Outreach DMS.